As air purifiers' popularity continues to grow, their features keep improving. Therefore, we're witnessing better and better products being introduced to the market everyday.
Aspects such as purification method, clean air delivery rate, and odor elimination continue to be developed into more efficient scales, and more elaborate modes of operation continue to be discovered. All these developments are driven by a growing market that comes as a result of customers familiarizing themselves with air purifiers.
One of these advanced products is the Rabbit Air purifier. Without further ado, let's take a look at some of the features of this product by doing a comprehensive Rabbit Air purifier review.
Rabbit Air Purifier Overview
Rabbit air purifier is an advanced, powerful, compact, and modern air purifier designed to serve in different home environments. The device features a highly advanced six-stage purification system.
This highly advanced system works through a series of filters, the first of which is a washable pre-filter that traps and reduces large-sized allergens, dust, and particles, followed by a medium filter that traps and reduces large-sized allergens, dust, and particles. Following these two initial stages, the gathered air goes through a BioGS HEPA filter which traps allergens and particles as small as 0.3 microns in size at 99.97% efficiency and reduces common allergens to support optimum filter efficiency and prolong filter life.
Next, as the fourth layer of purification, based on your specific needs, you get to choose to install any filter from a variety of customized filters that specialize in various roles such as Germ Defense, Pet Allergy, Odor Remover, or Toxin Absorber.
As a fifth layer, there's a high-grade charcoal-based activated carbon filter that reduces chemicals and home odors coupled. In the last layer, a negative ion generator produces beneficial negative ions to fortify the air you breathe and freshen your indoor environment. This highly-effective purification system is coupled with other fantastic features such as smart control, high clean air delivery rate, ultra-quiet operational noise, and long-lasting subsystems.
Rabbit Air Purifier Key Features
What are some of the key features that make the Rabbit air purifier stand out, you may ask? Keep reading to find out more.
Efficient and Advanced Filtration System
A six-stage filtration system that includes all three major filtration systems, HEPA, Carbon, and Ion filters, is something very rare. In addition, the fourth layer of the system is modular and can be changed based on specific needs.
Such a filtration system is unique to this device and offers a superior purification process and increased health benefits from its usage. Moreover, the device's filtration process makes sure to provide safe air in all three major aspects of air quality: air cleanliness of pollutants and bacteria, air cleanliness of allergens, and air cleanliness of odors.
Economical
Considering its performance and lifespan, the device is fairly cheap. Moreover, it comes with a five-year warranty and its filters are able to last up to two years even with constant use. Thanks to these features, the Rabbit air purifier becomes a much more attractive choice for its price. In addition, the device is energy-efficient during operation, and its effectiveness is approved by Energy Star.
Powerful
With a clean air delivery rate that can clean the air twice an hour in an 815 square feet area, this device is more than enough for most apartments and large rooms. This delivery rate includes the removal of pollutants such as pollen, dust, and smoke, allowing a safe environment for anyone with allergies and asthma. The device can also optimally run for 12 hours a day without any negative impact on the lifespan of its filters.
What We Like and Don't Like Rabbit Air Purifier
Like all other products, the Rabbit air purifier is not all perfect. But in order to know where this device thrives and where it doesn't, let's take a look at some of its key positive and negative features.
What We Like
Superior purification system
Highly powerful
Low maintenance
Ultra-quiet
Smart sensors
What We Don't Like
Not very efficient in eliminating cigarette smoke
Not all models are remotely controllable through WIFI
High filters price
Rabbit Air Purifier: A Buyer's Guide
If you are mulling the possibility of purchasing a Rabbit air purifier, here are a few facts you should know.
Who Is Rabbit Air Purifier For?
This highly effective purifier has a six-stage purification system designed to eliminate all airborne pollutants, including allergens, pollen, and odors. Therefore, it's an excellent choice for those looking for a medical purifier that can help them deal with allergies, asthma, or smoke.
Rabbit Air Purifier is significantly more costly than regular non-medical home purifiers, so if your air purification demands are not high, you should probably buy a regular non-medical purifier. Although the purifier features sensors and WiFi connection in some models, the device isn't very compatible with different forms of remotely controllable features and is mainly meant for manual use.
If you have a problem with noisy purifiers, then Rabbit air purifier might be your solution. With its Ultra Quiet feature, the device operates at minimal noise. Moreover, this air purifier is also a great solution for people looking to combine the benefits of air purifiers and air fresheners with its anti-odor filter.
Rabbit Air Purifier Alternatives
If, after reading our Rabbit air purifier review, you didn't find this device to be the right one for you, here's a list of a few alternatives which may fulfill your requirements.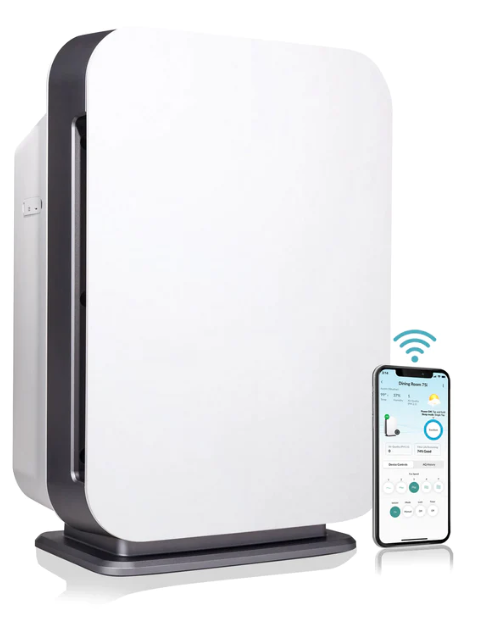 Another asthma-protective medical purifier, the Alen 75i air purifier, is a must-have for a lot of people. This device's purification system consists of a B7-pure filter that helps eliminate allergens and asthma-triggered coupled. Besides effective, the device is also very powerful, being able to clean the entire air of a 1300 square feet area every 30 minutes while still maintaining a soothing pink noise designed to help you sleep better.
In addition, the device features a Laser smart sensor that detects airborne particles and auto-adjusts with air quality changes. Moreover, the quality of your air is indicated by five different colors. The colors mean the following:
Blue=Excellent
Green=Good
Orange = Fair
Red = Poor
Purple = Bad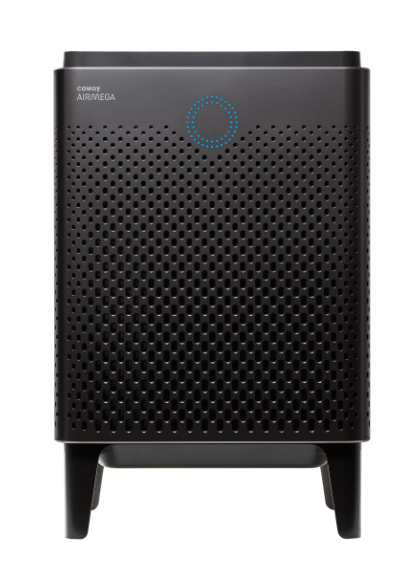 If you didn't find Dyson powerful enough, the Coway Airmega 400 might satisfy your requirements. This big boy can be used in home environments up to 1500 square feet large, in which case it can still clean the air twice an hour.
Similarly to the Dyson Pure Cool Link TP02, the Coway Airmega 400 also features a two-stage purification system that combines HEPA and Carbon filtering for superior air purification from the smallest particles to odors and VOCs. However, this purifier is also heavier and will cost you significantly more than its competitors.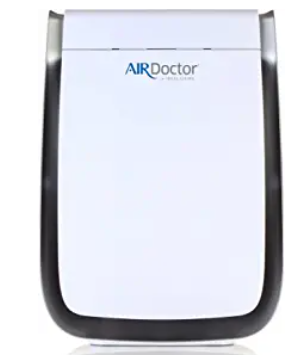 AirDoctor air purifier is another effective air purifier with an elaborate purification system. This device's system consists of a three-stage purification system made of a washable pre-filter, an UltraHEPA filter, and a proprietary dual-action Carbon VOC (Volatile Organic Compounds) filter.
The AirDoctor is also highly powerful, with a clean air delivery rate of two times per hour in a 1275 square feet area. Moreover, the AirDoctor air purifier makes use of whisper-jet fans for the air intake-outtake process and is only compatible with filters made by the same company.
Final Verdict
When you suffer from allergies or asthma, a device like this becomes necessary. The Rabbit air purifier is a great way to solve these problems thanks to its highly effective purification system, which enables you to have a healthier living environment.
Besides its health benefits, this device is also a great home appliance that contributes to home maintenance by removing odors and smoke, thus protecting other home items from harm from these phenomena. We hope this Rabbit air purifier review will hopefully help you become familiar with this device and make you decide if this device is the right one for you.