All of us love our precious pets, their cute little faces, and their wiggly tails – until you begin developing allergies and irritations from constant shedding, animal odor, and dander. Of course, you'll still love them, but you won't have much fun with them as you'll be busy coughing and sneezing 24/7.
To have a more calm, affectionate time with your fluffy best friends, air quality is a must fix, and what better way to achieve this than with some air purifiers?
What Are the Best Air Purifiers for Pets?
Air purifiers are the single most effective way to combat the dust, hair, and odor of pets, and we've compiled a list of some of the best purifiers that do just that.
Levoit Core P350 Pet Care Air Purifier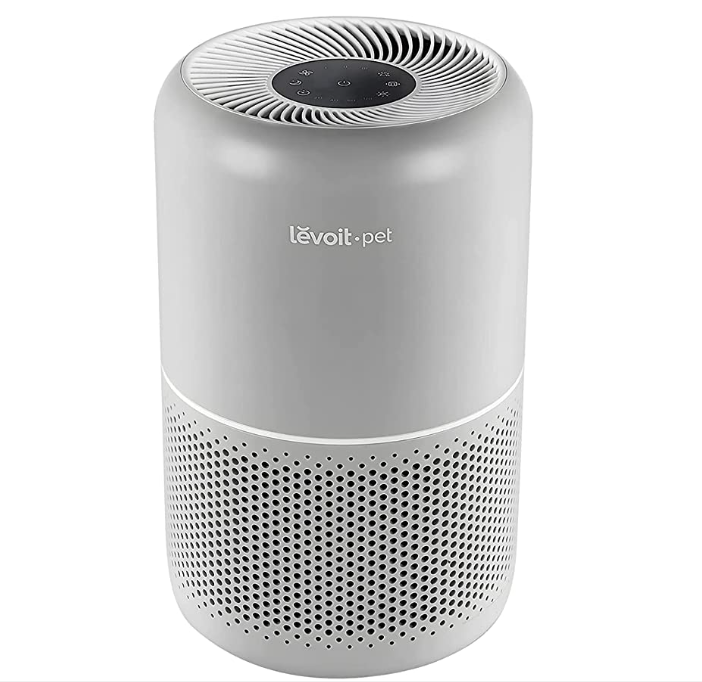 The first air purifier on this list is made by Levoit, which specializes in vacuum cleaners, humidifiers, and air purifiers. The Levoit Core P350 is made explicitly for pet parents who have trouble with coughing and breathing difficulties.
If you want to have an air purifier that thoroughly cleans your house, lets you sleep quietly, and keeps you and your lovely pets safe, the P350 will do the job. The innovative company cares for its customers and offers replacement filters that fit perfectly and give the best filtration results.
Key features
A filtration system that reduces sneezing and stuffy noses,
Neutralizes stinky smells,
Captures both large and small articles,
PetLock functionality that keeps pets and kids safe,
Purifies a 219 sq. ft. room in around 12 minutes.
What We Like
Gets rid of itching,
Small and unnoticeable,
Good for reducing dust,
Makes rooms smell great,
Helps with allergies.
What We Don't Like
Relatively high price for replacement filters,
Can be loud at times.
Honeywell Insight HPA5300B HEPA Air Purifier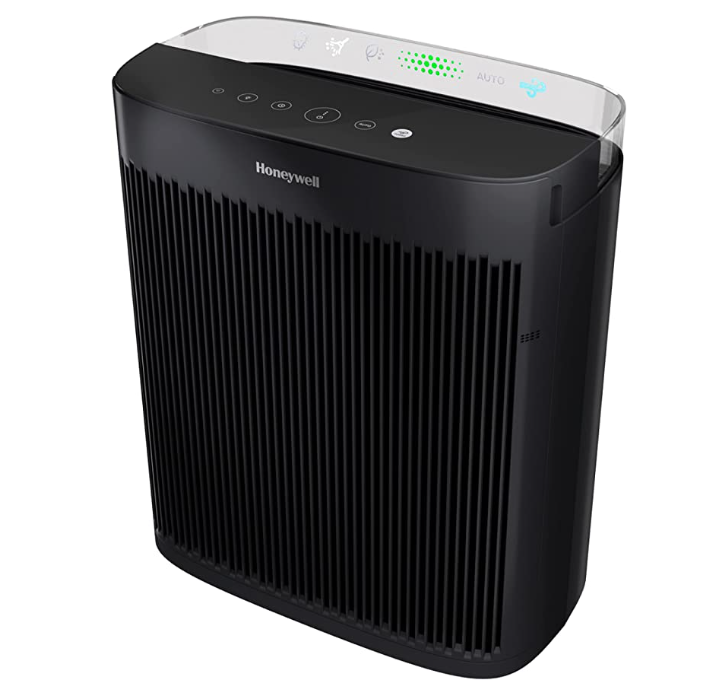 This air purifier is made by Honeywell, a company that builds products for heating & cooling, air quality, home convenience, and home security. One of their best products is the Honeywell Insight HPA5300B HEPA Air Purifier which works exceptionally well in larger rooms.
It helps catch airborne particles such as dust, pollen, pet dander, dust, and smoke. Honeywell improves air circulation and ideally filters air, even in houses with adorable fluffy pets.
Key features
Powerfully cleans rooms up to 500 sq. ft. five times an hour,
Energy Star certified,
Reduces pet dander, dust, pollen, and other allergens,
The activated carbon filter reduces pet odors.
What We Like
Great for cooking,
Useful for people with allergies or asthma,
Very quiet,
Simple timing mechanism.
What We Don't Like
Hard to find replacement filters,
High replacement cost.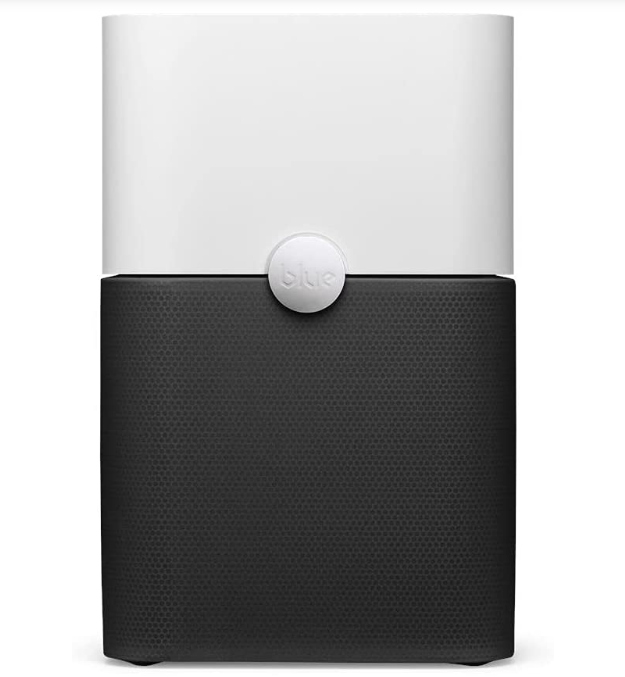 The company that made the following air purifier on our list is Blueair; they make products that act as magnets for dust and protect people from viruses and bacteria. The Blueair Blue Pure 211+ Air Purifier is designed to be used in large rooms, with its primary mission to eliminate odors.
It's energy-efficient and thoroughly tested, making it an excellent air purifier for families with pets running around the house.
Key features
Colorful filter design,
Low energy consumption,
Cleans rooms up to 540 sq. ft. five times an hour,
No louder than a whisper on the lowest speed,
Built with Swedish filter design.
What We Like
Great minimal look,
Straightforward setup,
Very quiet,
Perfect for eliminating smoke smells,
Long-lasting filters.
What We Don't Like
Bad plastic smell at the beginning of use
Alen BreatheSmart Classic Large Room Air Purifier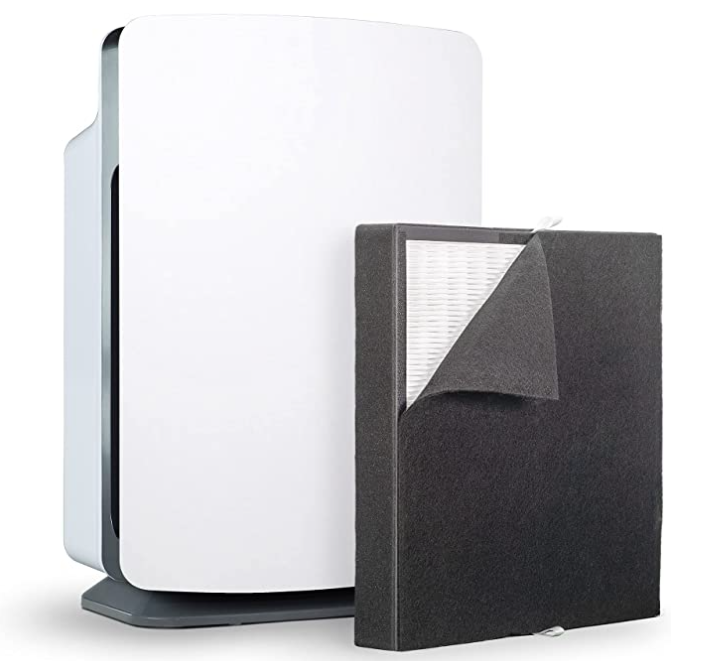 Alen creates some of the best air purifiers available for all room sizes and types of people. The Alen BreatheSmart Classic is a great air purifier for pet hair, made for large rooms, focusing mainly on offices, school classrooms, and open spaces where your pets can roam.
These purifiers are designed by NASA airflow engineers, promising high quality and precision. Alen BreatheSmart also comes with a light sensor that tells users the level of air quality.
Key features
Odorcell filter that helps relieve allergy and asthma symptoms,
HEPA filter that catches 99.9% of all bacteria and airborne particles,
Air quality sensor light,
Automatic mode that adjusts speed based on real-time air quality,
Cleans 1,100 sq. ft. rooms in 30 minutes.
What We Like
Nice nighttime features,
Great for people with allergies,
Good unnoticeable design,
Easy to carry around.
What We Don't Like
Bad noise at the beginning of use
Hamilton Beach TrueAir Air Purifier
Hamilton, the producer of this air purifier, is an expert in home appliances, from cooking equipment to air care. The Hamilton Beach TrueAir Air Purifier is mainly used in homes, offices, and overall by people who have pets in their living environment.
It has a great, compact design with versatile positioning to put it anywhere you want, horizontally and vertically.
Key features
High-performance HEPA grade filter,
Easy to clean,
Compact and stylish design,
3 different speed settings,
Versatile positioning; horizontal or vertical.
What We Like
Great for dust removal,
Helpful for sore throats and allergies,
Small size,
Convenient speed settings.
What We Don't Like
Issues with cardboard filters,
Problems with airflow design.
BISSELL MYair Personal Air Purifier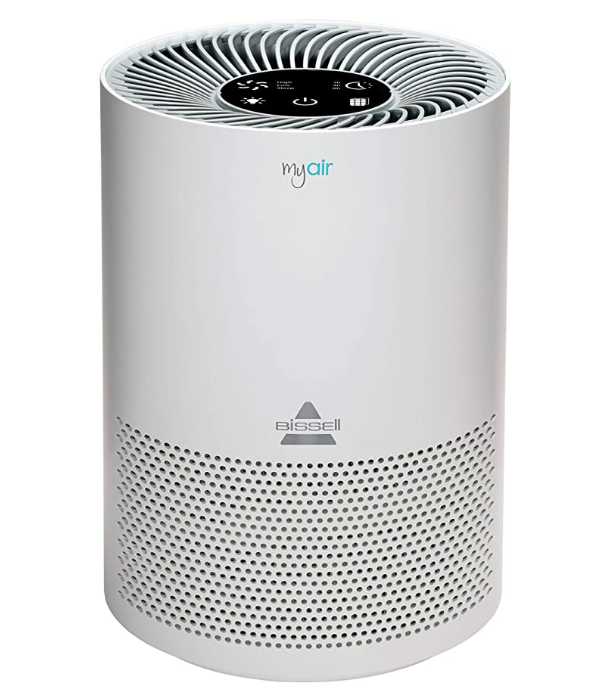 Bissell is a company focusing on vacuums and air quality treatment. The Bissell MyAir Personal Air Purifier is officially made for small dusty spaces highly frequented by pets. It can get rid of some very smelly odors and harmful organic compounds. You can also choose between different speeds and fan modes to utilize the product to the fullest.
Key features
Catches indoor smoke,
Three layers of filters that work together to catch 99.7% of air pollutants,
Quiet levels of noise for peaceful sleep,
Effective in spaces around 100 sq. ft.
What We Like
Very quiet on sleep mode,
Easy to set up,
Easier breathing for people with allergies,
Great in kitchens.
What We Don't Like
Louder on high speed than other purifiers
Lasko Pure Platinum Slim Profile Air Purifier with HEPA-Type Filtration and Auto Clean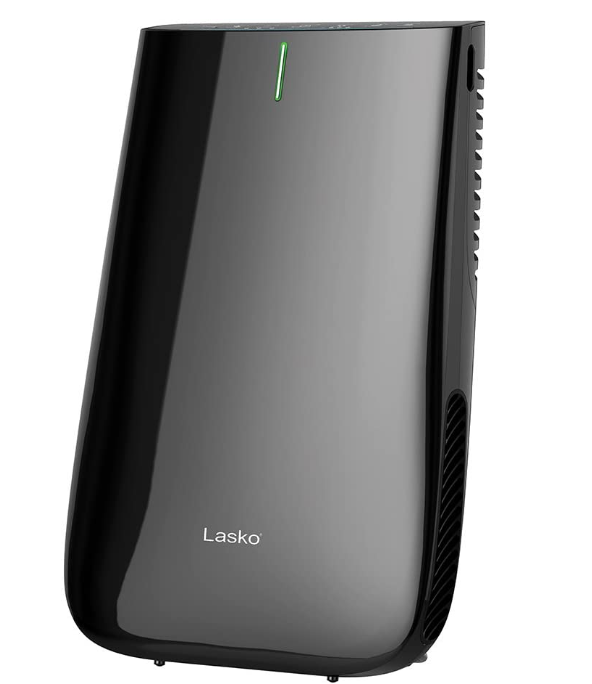 Lasko is a 100-year-old company specializing in home products such as fans and heaters and making a lot of difference in people's quality of life. The Lasko Pure Platinum Slim Profile Air Purifier is designed for rooms up to 200 square feet, mainly taking 17 minutes to clean a single large room. It lasts about 12 months and gets rid of all airborne irritants, even in places with pets and small animals.
Key features
Three fan speeds,
Can be controlled remotely,
Easy to carry and handle,
One-year filter supply,
Filter replacement light reminder,
Air quality sensor that turns the unit on when surrounded by low air quality.
What We Like
Gets rid of coughing and sneezing,
Sleek design,
Great airflow design,
Functional night mode setting.
What We Don't Like
Relatively high filter replacement price
LEVOIT LV-H132 Compact True HEPA Air Purifier
As another Levoit product on this list, the LV-H132 Compact True HEPA Air Purifier is precisely designed for bedrooms and offices. It produces high-quality air and healthier living environments for people and their pets.
You'll breathe easier with customizable settings and energy-efficient consumption while saving time and money.
Key features
Ozone-free filtration,
Three-stage filtering process,
ETL listed, CARB and FCC certified,
Noise levels as low as 25dB,
Two night light brightness settings,
Cleans spaces up to 129 sq. ft in 15 minutes.
What We Like
Great at removing pet odor,
Nice night light settings,
Easy setup.
What We Don't Like
The high setting can get a bit loud.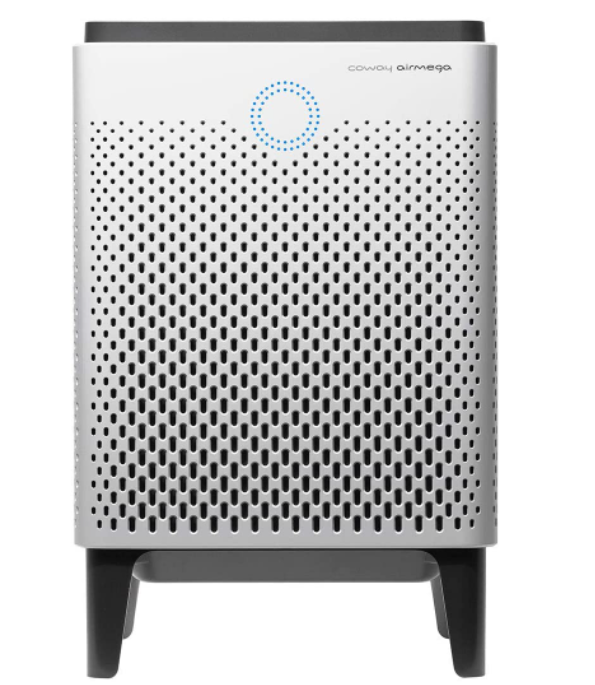 Coway is a company specializing in creating air and water filtration systems to help people worldwide live healthier lives. The Airmega 400 Smart Air Purifier is built to filter the air of rooms up to 1,560 square feet, taking down 99% of all air pollutants in the vicinity.
With LED lights showing how dirty the air around is and fan modes for all moments, you and your pets will definitely breathe easier.
Key features
Cleans large rooms up to 1,560 sq. ft. two times in one hour,
Filters 99.9% of all air pollutants,
Pollution sensor with an LED light that shows the surrounding air quality,
Five fan modes,
A smart mode that adapts and automatically adjusts fan speed according to air quality.
What We Like
Beautiful design,
Auto sensors work fine,
Very effective and powerful,
Extra quiet.
What We Don't Like
Slight issues with fans/fan replacement
GermGuardian True HEPA Filter Air Purifier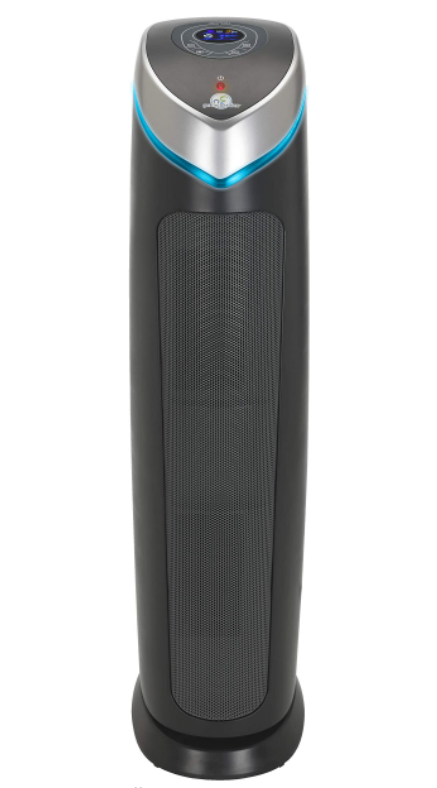 GermGuardian is a company that does exactly what its name suggests: protect people from germs through humidifiers, air sanitizers, and air purifiers. The True HEPA Filter Air Purifier is one of the best air purifiers for pets, with a 3-in-1 filter that sanitizes and purifies the air around the room from diverse pollutants. It's got a UV-C light to kill viruses and germs, a true HEPA filter to capture dust, and a charcoal filter for pet hair and particles.
Key features
3-in-1 air purification system,
Pet Pure Filter that stops mold, mildew, and odor-causing bacteria,
UV-C light that kills bacteria, germs, and viruses,
Traps allergens to reduce allergic symptoms,
Features an activated carbon filter that removes unwanted odors.
What We Like
Reduces allergy issues,
Perfect pet odor remover,
Energy-efficient,
Good for kitchens.
What We Don't Like
Can get loud at certain times,
Relatively expensive filters.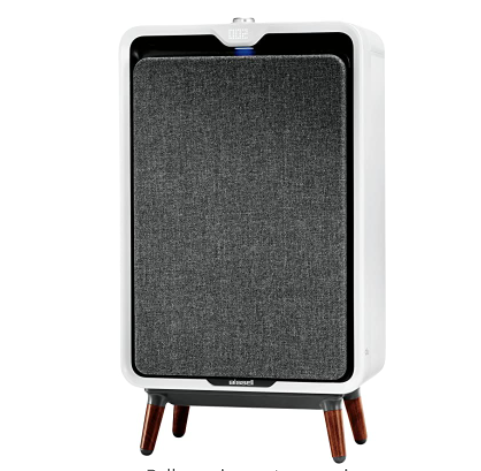 Bissell makes the list again, this time with the air320 Smart Air Purifier. The product is designed for bedrooms and overall larger rooms of up to 1582 square feet. It's got HEPA and carbon filters that get rid of irritants and pollutants through high performance and easy maintenance.
Key features
A 3-stage filtration system,
Medical-grade HEPA filter that removes 99.97% of air pollutants,
Honey-combed structured carbon filter,
Cleans 1,582 sq. ft. rooms once an hour,
Energy Star certified with 5 fan speeds,
Automated CirQulate system.
What We Like
Great for open spaces,
Perfect for people with allergies,
Easily gets rid of mold and musty smells,
Great styling.
What We Don't Like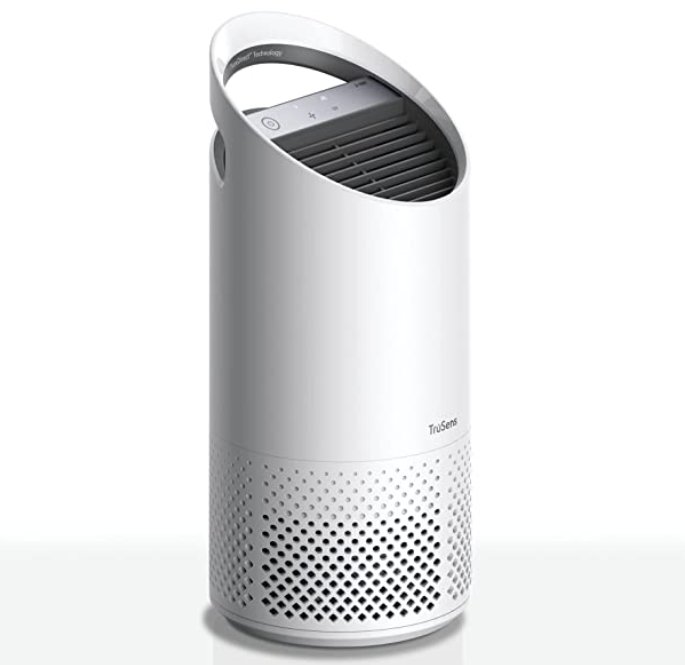 The last purifier on our list is made by TruSens, which produces special air filters and purifiers. The TruSens Air Purifier is a small portable one with dual airflow and total room coverage. It's great for dorms, bedrooms, nurseries, and other small living spaces.
TruSens creates beautiful minimalist designs that go very well with your lifestyle and are actually beneficial to it.
Key features
Captures and destroys pollutants,
Dual airflow,
Total room coverage,
Built to last and look good.
What We Like
Sleek and quality design,
Gets rid of stuffy noses and sore throats,
Very easy to set up,
Removes dust completely.
What We Don't Like
Defective functionalities time after time,
Noisier than average.
What to Look For When Buying an Air Purifier For Pets
Before committing to buying one, you'll have to go over some critical stuff an effective and efficient air purifier needs. Here are some of them:
Filter
Whether it is a HEPA or a pre-filter, your air purifier needs to have options because of greater utilization when it comes to fighting pet dander, dust, hair, and larger particles.
Size and Strength
There are different air purifiers for different room sizes, and you'll have to check their strength before buying. You don't want to be getting a 150 square feet air purifier when you'll be using it in an 800 square feet place.
Noise
An air purifier being louder than necessary is bad for you and your pets; you won't be able to focus on anything, and your pets will indeed get scared off. Pay attention to how loud the purifier gets and look for an air purifier with a built-in sleep mode.
Odor Removal
The main point of getting an air purifier is odor removal, so you'll have to look for one that has a carbon filter. These filters are the best at trapping bad smells in, so you won't have to do anything at all. Of course, the closer you put the purifier to the odor, the more effective it will be at getting rid of it.
The Bottom Line
Sometimes we don't even realize the air quality around us until we get somewhere fresh and clean. With air purifiers, you can get that healthy dose of oxygen right inside your house and next to your pet. Following the list above and the instructions given, we're confident that whichever air purifier you choose, you'll understand its importance and value for a better, healthier life.