Air purifiers have grown from simple secondary home appliances to handy multi-purpose modern devices that improve our health and living. Because of this, there has been a substantial increase in demand for this type of product, and as a result of greater demand, the products' quality and choices have also increased. Therefore, more and more powerful purifiers are being introduced to the market to satisfy customer needs.
Austin air purifier is one of them, standing out with its impressive features. Let's take a look at what sets this device apart from others through our comprehensive Austin air purifier review.
Austin Air Purifier Overview
Austin air purifier is a large and powerful purifier that can effectively eliminate both common airborne pollutants and allergy-related airborne pollutants through a four-stage process. In the first stage, the air goes through a pre-filter which traps large pollutants such as dust, hair, and pet dander. The second stage of filtration happens through a medium particle pre-filter that helps remove small to medium-sized particles such as molds, spores, and pollen. The third stage of filtration consists of a layer of about 15 lbs. of activated carbon and Zeolite that helps remove chemicals, gasses, and odors. The fourth and final filtration stage happens through a Certified HEPA filter that removes 99.97 percent of all particles larger than 0.3 microns.
This device is slightly heavier than most of its counterparts with a weight of 45 lbs but also more powerful and has a more efficient purification process. This air purifier is powered by an electric cord and doesn't require batteries. In addition, the company gives a five-year warranty on all parts and labor of the device.
Austin Air Purifier Key Features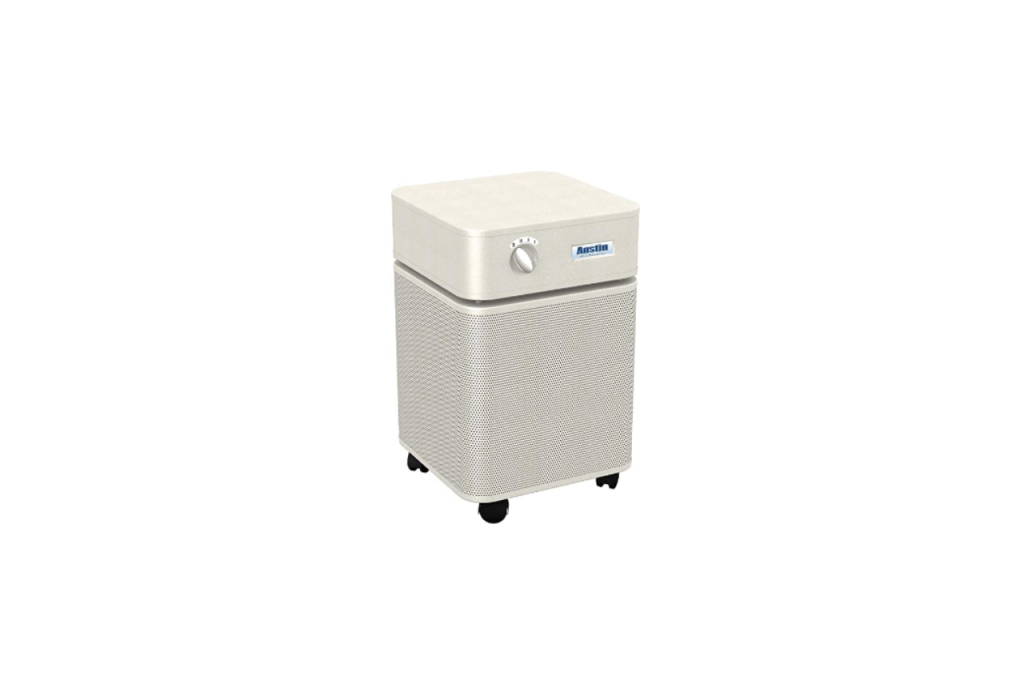 After looking at some of the general features, let's go through some of the key features that make this product stand out.
Durability
Austin air purifier is an absolute workhorse that can do its job for many years without needing expensive repairing or changing parts. The company itself gives a five-year warranty for every new product bought, including all major parts of the device. In addition, the is a pet-friendly purifier and is durable against physical damage that little children or pets might cause.
High Efficiency
Austin air purifier is highly efficient and serves as a regular air purifier and a medical anti-allergens purifier. These features are enabled by a highly efficient four-stage process that can eliminate large airborne pollutants, micro-pollutants, and allergens, providing a healthy and safe environment for people suffering from different types of allergies. In addition, the device also eliminates bad odors, leaving you with a fresh and nice-smelling home.
Cost-Worthy
Even though the initial purchasing price might seem high, the device's low maintenance cost and long lifespan make it one of the most cost-worthy air purifiers out there. The main fact that makes Austin air purifiers one of the most cost-efficient air purifiers in the market is that the company offers a five-year warranty on the device and all of its parts, including its filters, which is rarely seen in other purifiers.
What We Like and Don't Like About Austin Air Purifier
Like every other product, the Austin air purifier has its advantages and disadvantages that come with it. Let's take a look at some of the features we like and dislike the most about the Austin air purifier.
What We Like
Durability
Long lifespan
Low maintenance needs
Easily portable through its wheels
Good CADR, which enables it to be used in rooms up to 500 square feet
What We Don't Like
Loud when used in full power
Highly polluted homes reduce device's lifespan
Air outtake can be windy
Austin Air Purifier: A Buyer's Guide
If you are mulling the possibility of purchasing an Austin air purifier, there are some factors you might want to consider before purchasing the device. These factors are the ones that influence the efficiency of the air purifier.
Who is Austin Air Purifier For?
Austin air purifier is a powerful and efficient anti-allergic medical purifier designed for home usage. The device is meant to be used for long periods of time and is designed to have low maintenance and a long lifespan. Another feature of the device is that it's durable and safe for usage in environments with children and pets. However, although the device is very powerful, it's not suitable for industrial use since it will be less effective and its lifespan will be reduced significantly.
Thanks to the device's effectiveness in purifying the air, this device is preferred by people suffering from allergies and has shown to be very effective in creating an allergy-free environment. In addition, the device is also effective in eliminating home odors, but this will also depend on the amount of odor and home hygiene.
Austin Air Purifier Alternatives
If, after reading our Austin air purifier review, you didn't find the product to be the best choice for you, here's a list of alternative products you may like.
Rabbit MinusA2 Ultra Quiet is another highly efficient, durable, and long-lasting purifier that offers unique and superior features. This air purifier offers a highly advanced six-stage purification system and can be used in areas up to 815 square feet. All these fantastic performance features are combined with a modern and practical design that can be mounted on the wall or placed on the floor, is easy to assemble, and can be remotely controlled.
If you are looking for a more compact but effective purifier, the HATHASPACE Smart air purifier is the right choice for you. This 26 pounds purifier offers a unique five-stage filtration system that uses H13 HEPA filters, the latest filter types of HEPA technology. Thanks to its elaborate filtration system, the device is able to eliminate a wide range of pollutants from pollen, dust, pet dander, VOCs, smoke, and odors up to 99.95% of particles between 0.3 – 0.1 microns. In addition to its cleaning efficiency, the device has SMART features such as a digital display on the unit that reveals your air quality level.
Another anti-allergen and asthma protective purifier, the Alen 75i air purifier, is a must-have for a lot of people. This device's purification system consists of a B7-pure filter that helps eliminate allergens and a true H13 HEPA filter that captures 99.99% of bacteria, aerosolized viruses, and airborne particles larger than 0.1 microns. Besides being highly effective, the device is also very powerful, being able to clean the entire air of a 1300 square feet area every 30 minutes while still maintaining a soothing pink noise that is designed to help you sleep better.
In addition, the device features a Laser smart sensor that detects airborne particles and auto-adjusts with air quality changes. Your air's quality is indicated by five different colors that are displayed to inform you:
| Color | Air Quality |
| --- | --- |
| Blue | Execllent |
| Green | Good |
| Orange | Fair |
| Red | Poor |
| Purple | Bad |
The Bottom Line
For a device to have the ability to clean, sanitize and refresh the air is nothing short of a miracle of modern technology. These features have made a much needed and desired device for many people who not only want them but also need them for health reasons. So, having an option like the Austin air purifier is an excellent opportunity for people who want a safer and healthier living environment. This opportunity gives people an invitation to improve their life quality, and that seems to be what most modern people need.