As the use of air purifiers increases, the race for superiority among manufacturers also becomes intense. As a result, some manufacturers will inevitably stand out among their competitors with their products' quality, innovation, and practicality.
One of these companies is Winix. Its air purifiers have gained a remarkable reputation and are now the first choice for many customers worldwide. In this article, we'll take a look at what we believe to be the three best air purifiers the company has to offer.
Winix Air Purifier Review: Our Top 3 Picks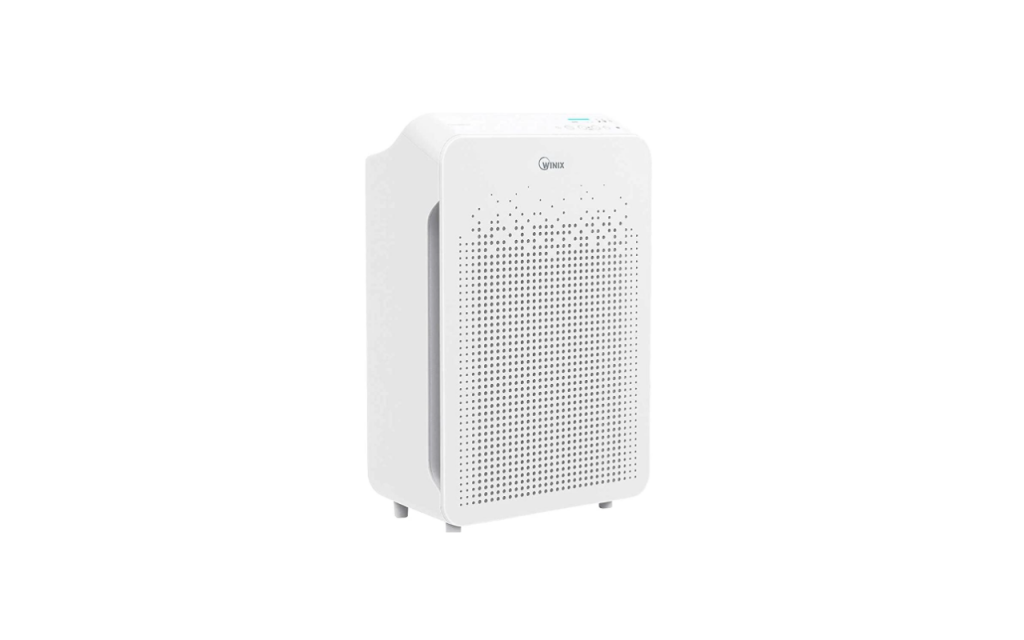 Winix has a wide range of air purifiers, so choosing one might be challenging. We analyzed their products and created a list of what we believe to be the three best overall air purifiers of Winix to make a comprehensive Winix air purifier review. 
Our choices were made by judging different device aspects, such as filter types, efficiency, and durability.
We're starting our list with Winix 5500-2, one of the best air purifiers you can currently buy. Here's all you need to know about this product.
Technical specs
True HEPA filters capture 99.97% of airborne pollutants, including dust mites, pet dander, pollen, and other allergens as small as 0.3 microns.
Washable AOC(TM) carbon filter, made of activated carbon granular for removal of household odors.
Clean Air Delivery Rate (CADR) suitable for rooms up to 360 square feet.
Operational noise of 27 dB.
DEvice rated Wattage of 70 Watt.
Efficiency
The Winix 5500-2 is a highly efficient air purifier suitable for all types of rooms of up to 360 square feet large. In addition to its large CADR scale, certified by the Association of Home Appliance Manufacturers, this unit is also effective towards a wide range of airborne pollutants such as dust, pollen, pet dander, smoke, and mold spores.
The device also effectively eliminates all types of house odors. It features an AOC (Advanced Odor Control) carbon filter and WINIX PlasmaWave technology, allowing it to create a three-stage air cleaning system. Since autonomy is essential in these devices, it also has a Volatile Organic Compounds (VOC) sensor for increased autonomous efficiency. In addition to these features, the device is also energy efficient and approved by Energy Star.
Durability
The air purifier's HEPA filters usually have a lifespan of up to 12 months, while its carbon and fine mesh are washable and reusable. The purifier itself is also known to be very durable and lasting.
What We Like and Dislike About Winix 5500-2
Here are our opinions on the pros and cons of this air purifier.
What We Like
Eliminates almost all air pollutants
Highly powerful
Easy movable around the house
Autonomous mode available with accurate sensors
Reasonable price
What We Dislike
Slightly louder than other similar devices
May release Ozone in certain conditions
Too much or very little difference between speed modes
Overall Performance
The Winix 5500 series has become a favorite choice for its efficiency in cleaning the air from dust and harmful particles. The 2nd edition of this series came with innovations such as a more modern and practical design but also more advanced sensors, autonomous mode, and sleep mode.
Since the item is light, durable, and highly efficient, it has proven to be very successful for usage in apartments and homes.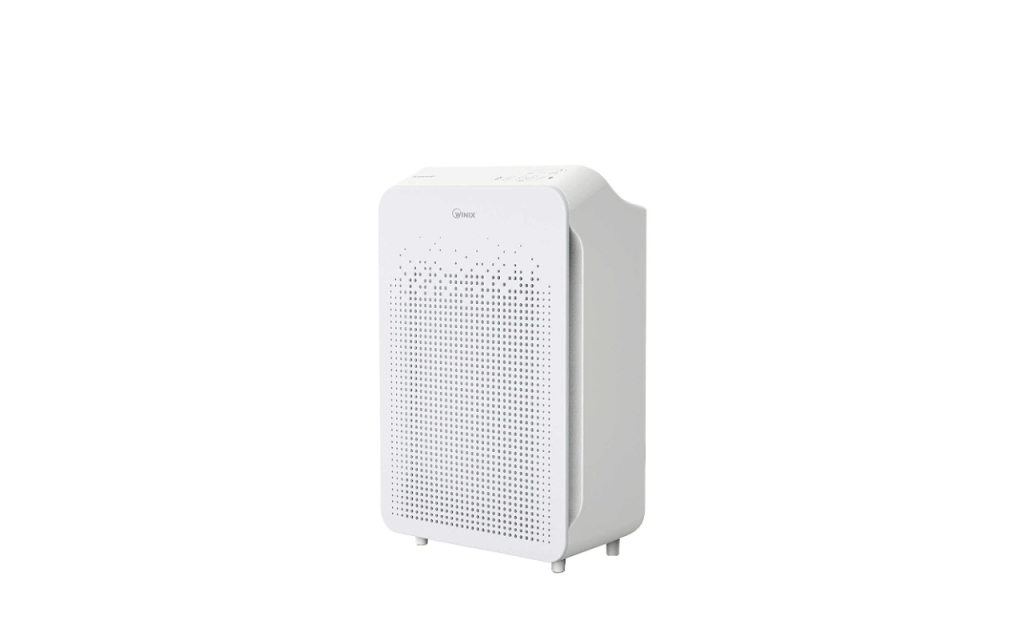 Next on our list of Winix's best air purifiers is the C545 model. This smart air purifier cleans rooms up to 1,740 sq ft in just one hour. Moreover, thanks to its Wi-Fi feature, you can control it anytime and anywhere through the Winix Smart App.
Technical specs
Washable Pre-filter
AHAM-verified CADR of 360 sq ft
Visual air quality indicator
Plasmawave technology
True Hepa filters
Remotely controllable through Wi-Fi and Winix smart app
Efficiency
The Winix C545 is a highly efficient air purifier that uses three filtration stages in order to eliminate airborne particles, pollutants, and home odors.
Firstly, a carbon pre-filter eliminates odors and traps large airborne particles such as animal hair. Secondly, its true HEPA filters eliminate 99.97% of the remaining pollutants. Last but not least, the plasma wave technology breaks apart odors, allergens, chemical vapors, as well as other pollutants at a molecular level.
In addition to air-cleaning efficiency, this air purifier is also energy-efficient with a certified performance by Energy Star.
Durability
The device is optimized for long-time use, and its components are replaceable and maintainable. The C545 purifier requires constant maintenance through washing its pre-filter and optionally changing it every three months, while its HEPA filter needs to be changed at least every year.
What We Like and Dislike About Winix C545
Let's take a look at some of the things we like and dislike about one of the best Winix air purifiers.
What We Like
Highly efficient against large and small pollutants
Remotely controlled through Wi-Fi or app
Sensors indicating air purity inside and outside
Energy-efficient
Quiet
What We Dislike
Non-standard filter sizes
Overall Performance
Overall, the C545 can be described as a small yet powerful air purifier that can eliminate all air pollutants, from large visible ones down to molecular level pollutants.
The device is remotely controlled and has high-performance sensors that give accurate information about the air quality inside and outside of your home, all displayed through LED lights.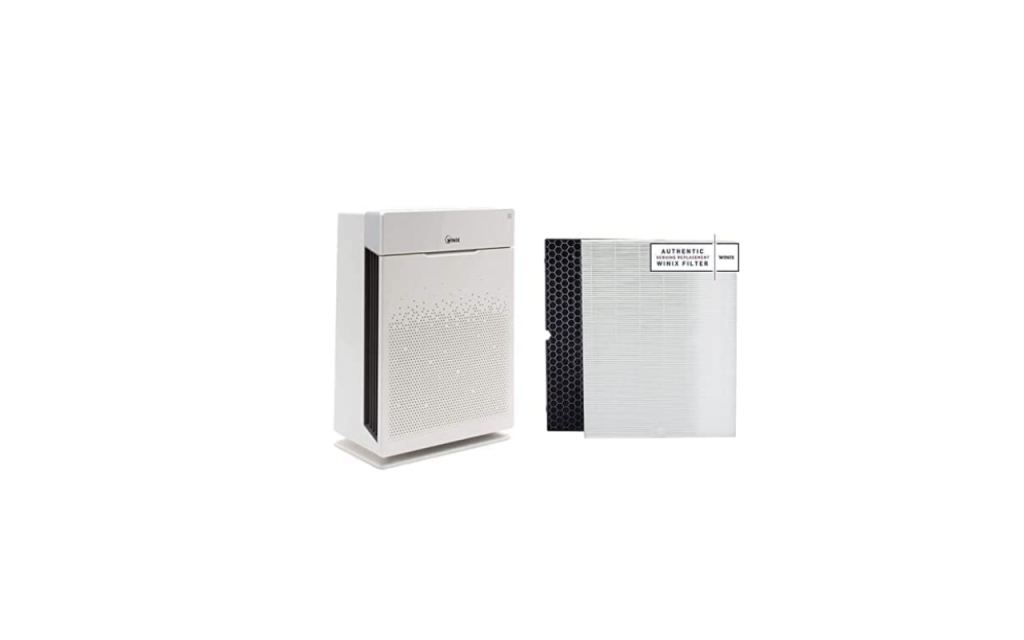 Last but not least, we're presenting one of the best additions to the Winix 9500 line of air purifiers. Without further ado, let's take a look at our Winix HR900 air purifier review.
Technical specs
True HEPA filters
Washable Advanced Odor Control Carbon Filter
5-stage purifying method
Winix Plasma Wave Technology
Ultimate pet filter
Efficiency
This purifier stands out with its highly efficient five-stage purifying method.
Winix HR 900 features an ultimate pet pre-filter that traps all hair and pet dander, thus increasing the life of the HEPA filters. In addition to the pet filter, the device also features a washable pre-filter, Advanced Odor Control Carbon Filter, and Winix Plasma Wave Technology. This elaborate purification system creates a highly purified and refreshed environment that is free of pollutants, odors, and allergens.
Durability
The device is characterized by high endurance in both its filters and the device itself. The double pre-filters enable longer endurance of the HEPA filters and ease the job of the Plasma wave. Moreover, the device comes with a reserve pet pre-filter so you can replace it when washing the original pre-filter.
The usage period of the Carbon and Hepa filters will depend on the well-maintenance of the device, but it's best you check them every three and twelve months.
What We Like and Dislike About Winix HR 900
Winix HR 900 doesn't lag behind its counterparts, so let's check our likes and dislikes about this product.
What We Like
A highly-efficient 5-stage purification system
Pre-filter efficiently traps pet hair and large pollutants
HEPA filter and Plasma wave technology eliminate micro-pollutants
Quiet to run
Energy efficient
Affordable
What We Dislike
Pre-filter made of paper
Large size
Can't connect to Wi-Fi
Multi-filters mean more expensive maintenance
Overall Performance
The HR 900 is a larger, more affordable purifier and is also highly effective thanks to its five-stages purifying method that eliminates odor and micropollutants.
This device features a simpler design without many fancy electronic features, but it's a practical and effective purifier, especially for households with pets. In addition to its cleaning efficiency, the purifier is energy-efficient and relatively quiet for its size.
Winix Air Purifier Alternatives
If you haven't found these Winix products to be the best choices for you, we gathered a list of other purifiers you may like. Each of the alternatives has many different features that may make them an appealing option for additional requirements you may have.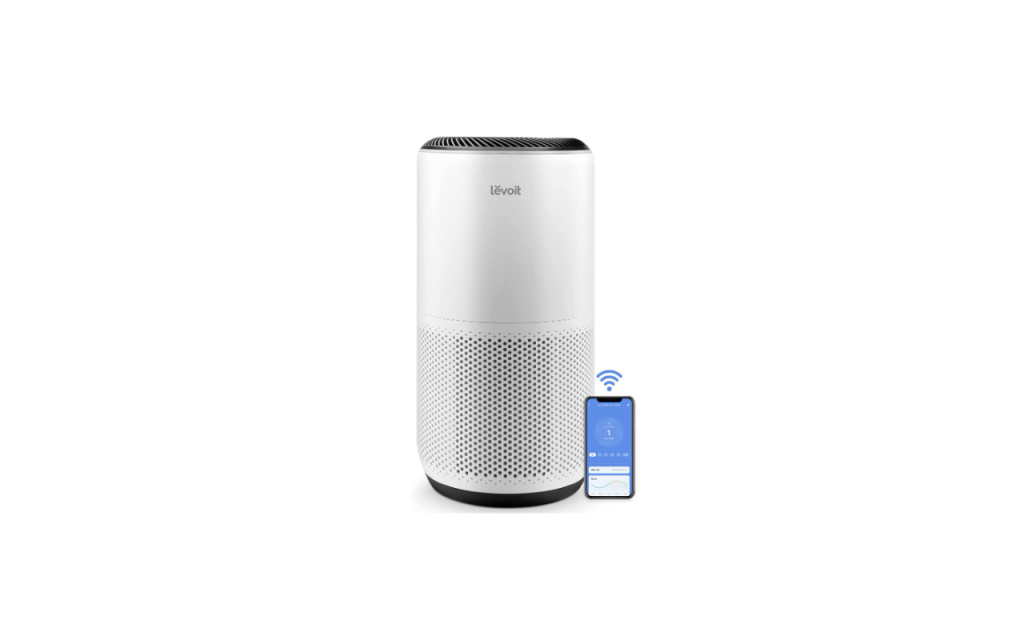 This powerful and modern air purifier is one of the best of its class you can find on the market.
The Levoit Core 400S air purifier stands out with a superior CADR of 1005 square feet, coupled with a 360 degrees air intake while still operating in silence. In addition, the device also features modern control systems through its VeSync app, allowing you to control your air purifier remotely from wherever you might be.
Similarly, you can leave the device to operate in autonomous mode and not worry about it, as its sensors can operate and shut down the device when needed.
If you're looking for a solid choice with a solid performance, then look no further.
The Blueair Blue Pure 211+ comes packed with solid performance specs and a CADR of 4.8 times an hour in 540 square feet. In addition, the device is energy efficient with a consumption rate of 30-60 watts and has a low operational noise of a maximum of 51 decibels.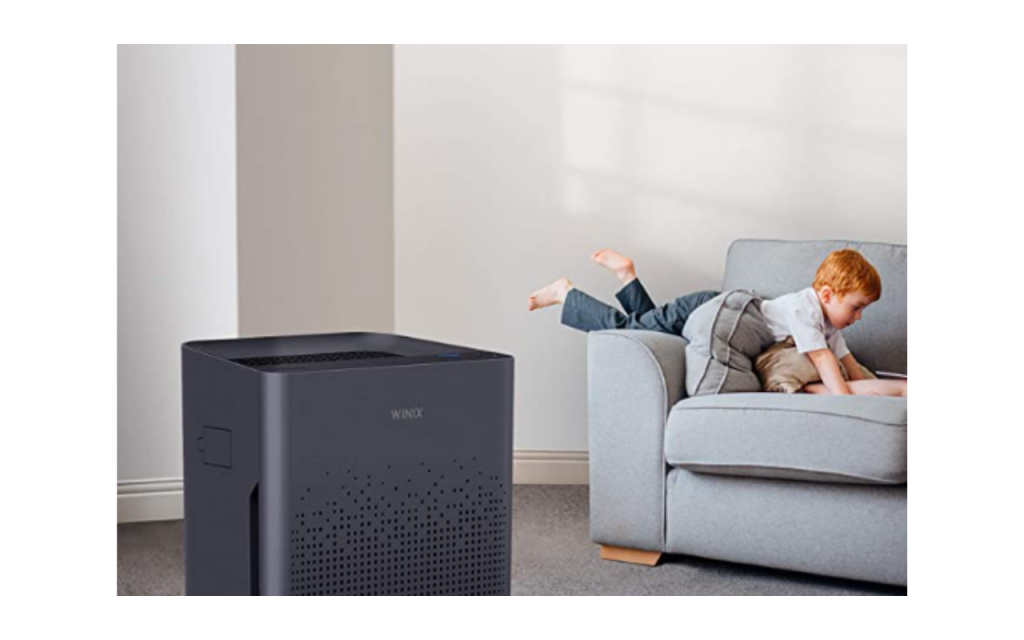 At last, we got another appealing Winix product, and this air purifier also doesn't lag behind its aforementioned counterparts.
Winix AM80 offers a solid CADR of 360 square feet. At the same time, the air purifying system consists of a fine mesh pre-filter and a washable AOCD carbon filter complementing its true HEPA filter and its Plasma wave. In addition, the device features other fantastic elements, such as an air quality indicator that displays through LED lights and high-quality sensors that allow it to work on auto-mode.
Final Thoughts
Buying a product from a company that has proved itself with its products over and over again is only rational. Although the air purifier market is very competitive with numerous companies involved, Winnix has been able to stand out with the excellent quality and reasonable prices it offers.
We gathered this list of what we think are three of the best air purifiers that the company offers. Hopefully, this list helps you understand these devices' features and helps you choose the right air purifier for you.