An environment that contains dust, allergens, pollen, pet dander, hair, and mold spores is a nightmare for people with allergies and is especially dangerous for people with asthma and other breathing problems.
Having a dusty home office and being surrounded by microscopic air pollutants while you work has to be one of the worst things you can do to yourself. Not only will your attention be divided between the uncleanliness of the room and your actual job, but your health will also be harmed in the process.
Even worse than working in a dirty environment is sleeping in one. The bedroom has to be squeaky clean if you want a healthy sleeping experience, and keeping each corner of the room spotless does take time. Moreover, dirty air affects your sleep in such a manner that you won't have any energy the next day because your stuffy nose did not let much oxygen in during the night.
These issues, and more, can be effortlessly fixed by purchasing the fantastic Germ Guardian air purifier. This product works in the background, cleaning small spaces in a matter of minutes and keeping your health in check.
Germ Guardian AC4825 Air Purifier Overview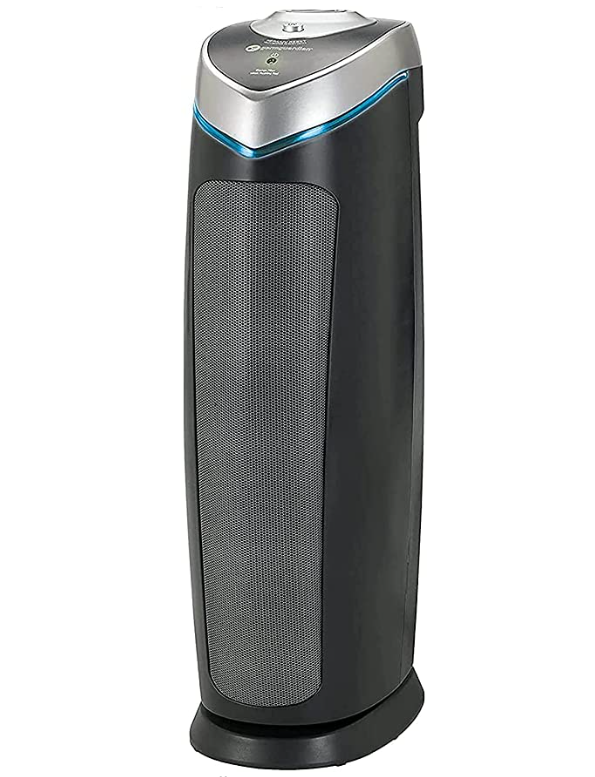 GermGuardian is a company that specializes in air purifiers, air humidifiers, UV air sanitizers, and products for spa and wellness. We recommend buying GermGuardian AC4825 because it fulfills all the requirements of a modern air purifier. It has an excellent filtering system that helps people with allergies and asthma, removes pet odors, captures hairs and fur, and overall clears the dust from your furniture.
With a sufficient coverage area and powerful fans, the AC4825 will be more than enough to clean an average-sized room. These features make it a great choice for people who want to buy an economical and effective air purifier.
Germ Guardian AC4825 Air Purifier: Key Features
GermGuardian AC4825 is known for its beautiful design and practical size, and when paired with an easy-to-use control panel, the air purifier offers an overall excellent user experience.
With three layers of filters and a substantial coverage area, GermGuardian delivers its promise of carefully cleaning the air you breathe every day. Users get the benefits of odorless and dust-free rooms while saving money on energy bills and reducing harmful environmental emissions.
There are plenty of features and functionalities built into AC4825 that make it such a convenient home product, and we'll go over some of the most prominent ones.
Germ Guardian AC4825 design and size
GermGuardian AC4825 has a modern and sophisticated design. The shape is practical, and with 8.5 pounds in weight, it can be carried around from room to room effortlessly. The tower-like build helps greatly, making it possible to squeeze the purifier anywhere around the house and make it look natural.
With a length of 10.75 inches, a width of 6.75 inches, and a height of 21.5 inches, the AC4825 comes in black or white color, both combined with silver to create a stunning look.
Germ Guardian AC4825 control panel
If you're not into complicated gadgets that only delay the process of air cleaning, GermGuardian AC4825 has a straightforward and understandable control panel. It's very easy to use, considering it only has one knob and a single button.
The knob is used to turn on the purifier and adjust the fan speed to whichever setting you want: low, medium, and high. After AC4825 has finished purifying, you can turn it off using the knob.
The button serves to turn on the UV-C light and as a reset button for the product after filter replacement.
Germ Guardian AC4825 filters
The GermGuardian AC4825 has three layers of filters working together to bring you the best possible air.
The Activated Charcoal Filter – works to reduce odors coming from pets, smoke, cooking, wildfires, and more. This gives your surroundings a fresh and uncontaminated smell.
The Pre-Filter – functions as a trap for more significant pollutants such as hair, fur, and large dust and works hard to prolong the life of the HEPA filter.
The HEPA filter – removes 99.9% of all air pollutants as small as 0.3 microns. This is the primary filter of the product and will have to be cared for and replaced periodically.
Germ Guardian AC4825 coverage area
The AC4825 model has a coverage area of 167 square feet. Although it's mainly used for smaller spaces, it's potent and effective when placed in:
Apartments
Bedrooms
Home offices
Small living rooms.
Germ Guardian AC4825 noise level
GermGuardian is the best solution for people who want clean air even during their sleep but do not want to get woken up by the sound of the fan. The purifier comes with an astonishing sleep mode that turns the fan into gentle white noise and effectively cleans the air you're breathing in your slumber.
The two other settings, medium and high, have acceptable noise levels that won't be a problem as you finish your daily activities.
Germ Guardian AC4825 power consumption
GermGuardian AC4825 has an average energy consumption of 55W at full speed and with the UV-C light on. Of course, you can choose to turn off the UV-C light, and the consumption will be moderately lower.
The AC4825 is Energy Star Certified, meaning it saves you money and energy while simultaneously protecting the environment and releasing fewer greenhouse gasses into the ecosystem.
Germ Guardian AC4825 certification
Besides the Energy Star certification, the AC4825 is also EPA, AHAM, and CARB certified:
EPA – The Environmental Protection Agency certification means that GermGuardian knows about the importance of limiting ozone emissions and acts towards it.
AHAM – The Association of Home Appliance Manufacturers assures customers that GermGuardian AC4825 has undergone standardized tests and can remove smoke, dust, and pollen.
CARB – The California Air Resources Board certification ensures that GermGuardian meets the current emission standards and produces as few harmful and toxic emissions as possible.
Germ Guardian AC4825 additional features
Some other features that make AC4825 even better and that we may not have mentioned yet are:
Easy to use
Value for money
Sleep mode
Noise levels
Zero ozone emissions
What We Like About Germ Guardian AC4825 Air Purifier
Great for pet owners
Reduces allergy symptoms immensely
Filters wildfire smoke efficiently
Sturdy and compact design
Built for long-term use
Less noisy than a standard fan
What We Don't Like About Germ Guardian AC4825 Air Purifier
It can smell if not used properly
Costly filter replacement
Air intake and outtake can get faulty
Germ Guardian AC4825 Air Purifier: A Buyer's Guide
GermGuardian AC4825 is an amazing air purifier capable of removing odors, filtering allergens, and eliminating dust wherever you place it. With three different layers of filters and UV-C light, your breathing troubles will fade away, and your symptoms will rarely occur.
Nothing compares to an air purifier that you can carry around from room to room with no problem, and this is precisely what AC4825 offers. The great design also allows customers to place the purifier wherever they like, and it will fit right in.
However, as mentioned earlier, the AC4825 has to be appropriately used not to smell as time passes, and the filter replacement can become quite costly.
Who is the Germ Guardian AC4825 Air Purifier for?
The GermGuardian AC4825 is ideal for people who want an affordable air purifier to use in a relatively small place. Its price and coverage area combine for one of the best deals you can make if you want your bedroom, bathroom, home office, or tabletop to be surrounded by clean air and become dust-free.
It goes without saying that this particular purifier is one of the most effective allergen removers, so people with allergies and similar symptoms caused by pets or other factors will appreciate having this around their house.
Germ Guardian AC4825 Air Purifier Maintenance Tips
The air purifier comes with a three-year warranty, during which time it is allowed only to use original GermGuardian replacement parts and accessories.
A light indicator will show up when it's time to replace the UV-C light bulb, and another light will come on when it's time for the filter replacement. Both of these will be seen on the control panel, and after the replacements are finished, you have to hold the UV-C button down for three seconds. This will reset the timer and turn off the light indicators.
Germ Guardian AC4825 Air Purifier Alternatives
If you don't feel satisfied with AC4825 for whatever reason, we've made sure to list these three excellent alternatives that reach the same performances as the GermGuardian product: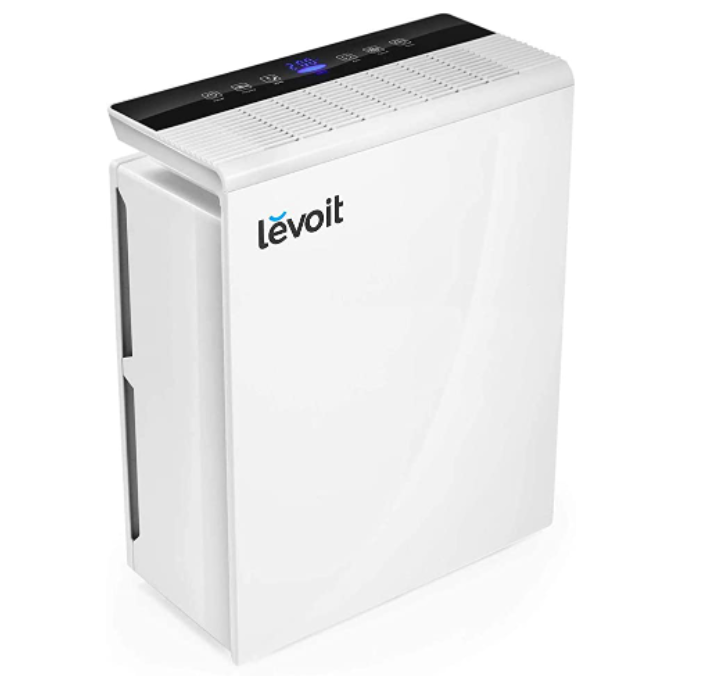 LV-PUR131 is the first great alternative to AC4825, mainly due to its much more extensive coverage area of 720 square feet. It boasts maximum purification in large rooms at least once an hour and uses the High-Efficiency Activated Carbon filter to remove all unwanted odors from the space it's in. It comes in standard or smart mode and is the ideal air purifier for smokers and pet owners, who will be utterly amazed at the capabilities of the Levoit LV-PUR131.
Some other features and functionalities of this great air purifier include:
Easy to assemble
Improves sleep quality
Has a sleep mode
Low noise level
Durable
Coway Airmega 400 Smart Air Purifier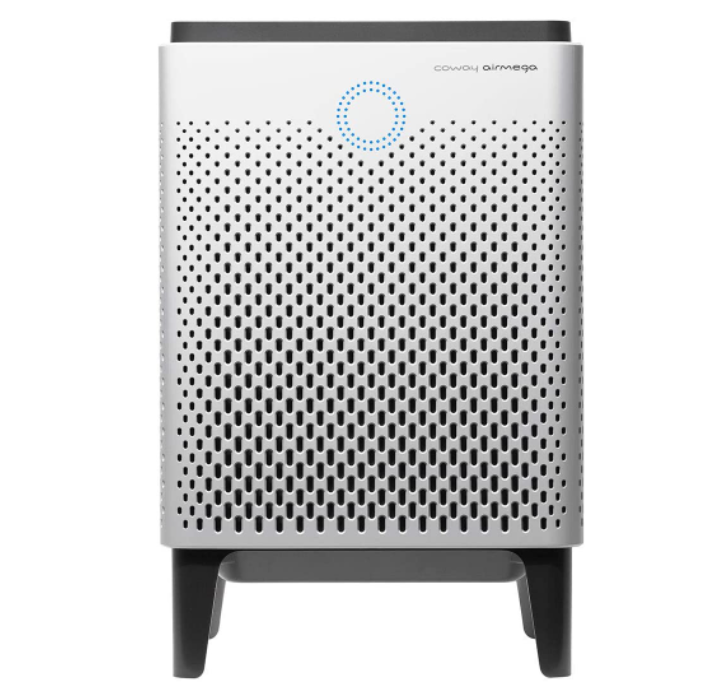 The Coway Airmega 400 covers an even larger purification area, with an alleged 1560 square feet being cleaned twice per hour. The HEPA filter and the attached activated carbon filter remove 99.9% of all air pollutants and odors surrounding the purifier. This machine also has a pollution sensor that continuously tests the air quality, and then a bright LED ring tells you how clean or dirty it is.
The Airmega 400 has five different modes: Smart, Sleep, Slow, Medium, and High. The sound ranges from nearly quiet at the slow setting and 42dB at the highest.
Some other Coway Airmega 400 features are:
Easy to clean
Easy to use
Sleep mode
Nearly silent noise level at lower speeds
Value for money
Remote control
HATHASPACE HSP001 Smart Air Purifier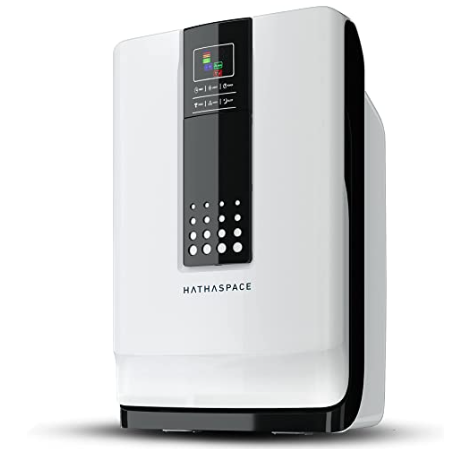 Hathaspace HSP001 is a tremendous smart air purifier with a coverage area of 700 square feet. It provides a 5-in-1 filtration system that eliminates odors, pollen, dust, smoke, and pet dander. It's a terrific product for people who suffer from allergy symptoms, making life easier and the air around them breathable again.
HSP001 has an Auto Mode that detects whenever the air gets contaminated, activates the fans, and adjusts their speed depending on the level of dirty air it senses. The product's digital display showcases your air quality level, so you always know what type of air you're inhaling.
Other outstanding features found within HATHASPACE HSP001 are:
Sleep mode
Good value for money
Quiet operation
Remote control
Durability
Odor elimination.
The Final Verdict
Are you overthinking whether or not to buy an air purifier? Hopefully, this article has given you some much-needed insight. The GermGuardian AC4825 is a favorite among many reviewers, and rightfully so: it's simple to use and does its job without needing too much attention. It's pretty rare to find a product that is both affordable and efficient, so when you do, make sure it doesn't get away.
If you've found out you're not that interested in the GermGuardian, we're confident some of the alternatives we've given will get the job done.