Air purifiers have become a modern home appliance to have. Besides their medical benefits of purifying the air, they also have become increasingly preferred for their ability to get rid of bad odors, compact and simple use, and modern and minimalist look.
One of these modern and effective air purifiers that stands out amongst its competitors is the Dyson Pure Cool Link TP02. This cool-looking air purifier offers a lot more than just good looks, so let's dive in and tell you what it brings to the table.
Dyson Pure Cool Link TP02 Air Purifier Overview
Dyson Pure Cool Link TP02 is a modern, effective, powerful, and multifunctional air purifier with a modern and compact design that makes it easy to use. This air purifier is a medium-powered and lightweight device with a weight of only 8 lbs and a clean air delivery rate of 70 square feet. Dyson's air purifying method consists of a two-stage purification system with a HEPA filter as the first purifying layer that captures 99.97% of allergens, airborne pollutants, bacteria, mold spores, and pet danders. The second layer consists of activated carbon, which eliminates household odors and volatile organic compounds (VOC).
The device's purifying features are supported by its sensors which monitor and automatically regulate air quality in your home. In addition to its purifying abilities, the device can also act as an air cooler with its oscillating fan during the summer. This feature is available in ten airspeed settings and is remotely controllable through Amazon Alexa.
Dyson Pure Cool Link TP02 Air Purifier: Key Features
If you're wondering what makes this product stand out from the rest, let us tell you some of its key features.
Dual Functionality
If you're in doubt about whether to buy an air purifier or an air cooler, you can settle and buy Dyson Pure Cool Link TP02, which gives you the best of both worlds. This feature is handy for hot climate areas in which having an air purifier that also cools the air is essential, as usually hot areas also have more air pollution. In addition, the device's oscillating fan doesn't have fast-spinning blades, making it safer to have around little children and pets.
Two-Stage Purification Process
This device features a highly effective two-stage purification process, which combines the effects of HEPA purifiers and carbon purifiers into a single device, thus increasing the quality of the purified air that it delivers. This combination enables the air in your home to be purified by all airborne pollutants such as allergens, bacteria, and mold spores while also eliminating volatile organic compounds and bad odors. This way, the Dyson Pure Cool Link makes the air not only purified but also refreshed and good smelling.
Lightweight and Easy to Assemble
It's essential that home appliances be easy to transport and assemble because we all know the struggles that large, heavy, and complex utilities make us go through. In contrast to traditional home appliances, the Dyson Pure Cool Link TP02 air purifier weighs only 8 lbs, helping you get it up and running in just a few minutes. If you need a guide on how to assemble it, you can check the user manual provided to you when you buy the device.
What We Like and Don't Like About Dyson Pure Cool Link TP02 Air Purifier
Like every other product review, this Dyson air purifier review contains its advantages and disadvantages, so let's take a look at what we like and don't like about this device.
What We Like
Two-stage purificator HEPA+Carbon filter
Dual-purpose device, air purifier+air cooler
Remotely controllable through Amazon Alexa
High-quality sensors that enable automatic operation
Safe for children and pets
What We Don't Like
May release Ozone in certain conditions
Noisier than regular fans
Not very powerful as an air cooler
Dyson Pure Cool Link TP02 Air Purifier: A Buyer's Guide
If you're mulling the possibility of purchasing a Dyson Pure Cool Link TP02, here are some facts and advice you might want to consider to help you make your choice.
Who Is Dyson Pure Cool Link TP02 Air Purifier For?
Dyson Pure Cool Link TP02 is an air purifier and air cooler that is appropriate for usage in home environments that need to be purified from allergens and VOCs, as well as in hot room environments, which, besides purification, also need to be cooled down. However, this purifier is not meant for large environments such as businesses and gyms, as it will not be effective in huge areas, especially in cooling down those areas.
As for personal use, this device is excellent for families, as it does not pose a danger of injury to kids or pets. Moreover, Dyson Pure Cool Link TP02 also has autonomous operational capabilities, minimizing the risk of causing damage when left alone. The device is light, compact, and remotely controllable through wifi and Amazon's Alexa virtual assistant, making it an excellent choice for people who wish to have their purifier under their control at all times.
Dyson Pure Cool Link TP02 Air Purifier Alternatives
If, after reading our Dyson air purifier review, you didn't find it appropriate for your needs, we gathered a few similar products which may suit your requirements.

If you didn't find Dyson powerful enough, the Coway Airmega 400 might satisfy your requirements. This big boy can be used in home environments up to 1500 square feet large, in which case it can still clean the air twice an hour. Similarly to the Dyson Pure Cool Link TP02, the Coway Airmega 400 also features a two-stage purification system that combines HEPA and Carbon filtering for superior air purification from the smallest particles to odors and VOCs. However, this purifier is also heavier and will cost you significantly more than its competitors.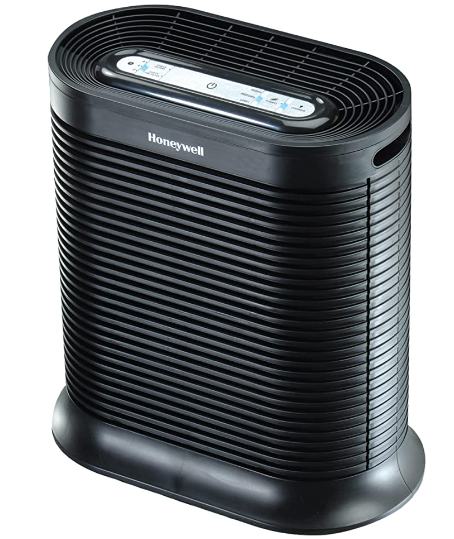 Another high-power purifier is the Honeywell HPA300 purifier. Like its competitors, Honeywell is also an anti-allergens purifier that, through its unique Honeywell HEPA filter, can clean the air from a wide variety of airborne pollutants, including microscopic airborne particles like dirt pollen, pet dander, and smoke. In addition, the device has a high clean air delivery rate (CADR) of 4.8 times per hour in a 465 square feet room while at the same time possessing an Energy Star rating for its efficiency in using electricity. Moreover, this air purifier is pretty affordable, and maintenance costs make it an appealing choice.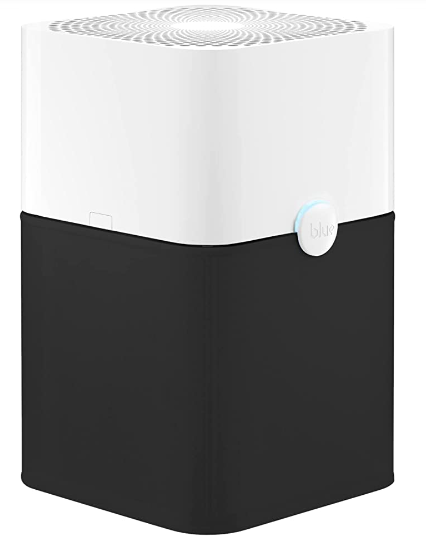 Blueair air purifier was specifically designed to counter home allergies and features a three-stage purification system. This system consists of a two-layered pre-filter, a Blueair 211+ particle catcher, a Blueair HEPASilentTM filter, and a carbon filter. As a result, it guarantees the elimination of all types of allergens, including Pollen dust, airborne pet pollutants, and home odors. In addition, the device is also energy-efficient, silent in operational mode, and has a strong clean air delivery rate of 5 times per hour in a 40 square feet room. All of these features are combined in a lightweight device of 13 lbs and at an affordable price.
Final Thoughts
Home is where people seek peace and tranquility, but having home allergies and polluted air in your room can ruin that. That's why air purifiers were created to allow everyone to find the calmness we all seek in our homes. Dyson Pure Cool Link TP02 is one of these devices seeking to improve your life by purifying your home air from harmful pollutants and allergens while also refreshing your home environment by cooling the air.