Whether for holidays or work purposes, traveling around the world can be pretty enjoyable. Besides the places you'll visit, an essential part of your trip will be the hotel rooms, which you always want to be clean and proper. Why not have a compact air purifier that can fit in your baggage and on your backpack at all times?
Portable air purifiers are becoming a necessity for people who travel and for people who want safe air in their office, classroom, or wherever they spend their day away from home. The luxury of fitting such a product anywhere is an unmatched advantage, and people have already begun to hop on the trend.
What Are the Best Portable Air Purifiers?
Taking into account features, functionalities, and ease of use, we've made a list of some of the best air purifiers available.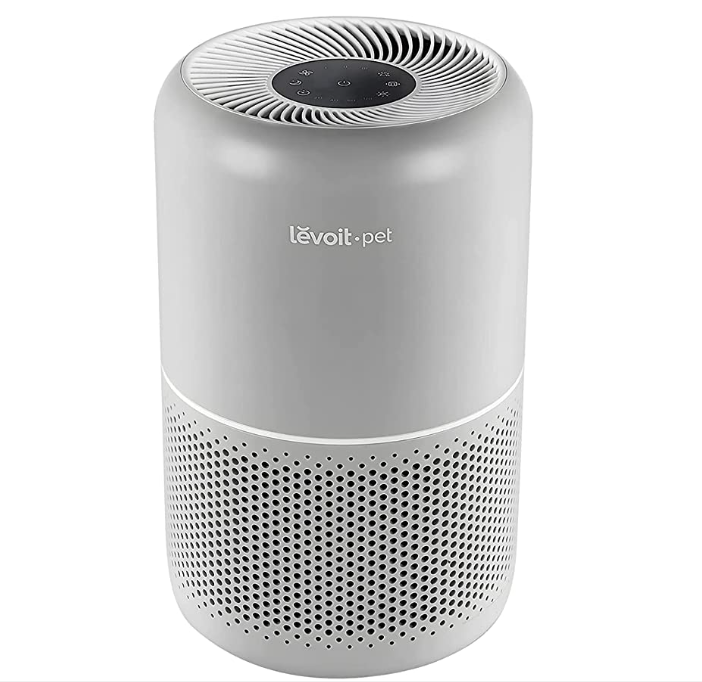 Levoit H13 is a great air filter for bedrooms, especially for people with allergies. Made by Levoit, a company specializing in humidifiers, vacuum cleaners, and air purifiers, the H13 can be used in rooms up to 517 square feet. It's a silent air cleaner with an excellent design, making it fit anywhere in your home without much trouble.
Key features
360-degree air intake
Cleans 547 square feet rooms in 30 minutes
Different filter options
Fully certified for energy efficiency
Low noise levels and almost quiet sleep mode
Sleek design that blends in any room
What we like
Allergy killer
Extremely quiet filtering of air
Small, attractive, and very portable
Effective night mode
What we don't like
Occasional filtering issues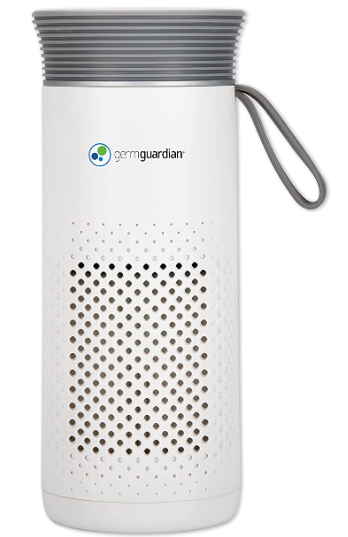 GermGuardian offers a wide range of air quality appliances and solutions together with innovative technologies to defend against poor air. One of these technologies is GermGuardian 2-in-1 Portable Allergen Air Purifier, with a UVC light. This air purifier captures dust, fights germs and removes odor.
Key features
Portable, compact, and lightweight
Utilizes UV-C light to kill germs and viruses
Traps large particles to reduce allergy symptoms
Pleasant white noise during sleep mode
What we like
Less sneezing and itchy nose
Protection against severe allergies
Easy setup process
What we don't like
Not suitable for larger areas
KOIOS Air Purifier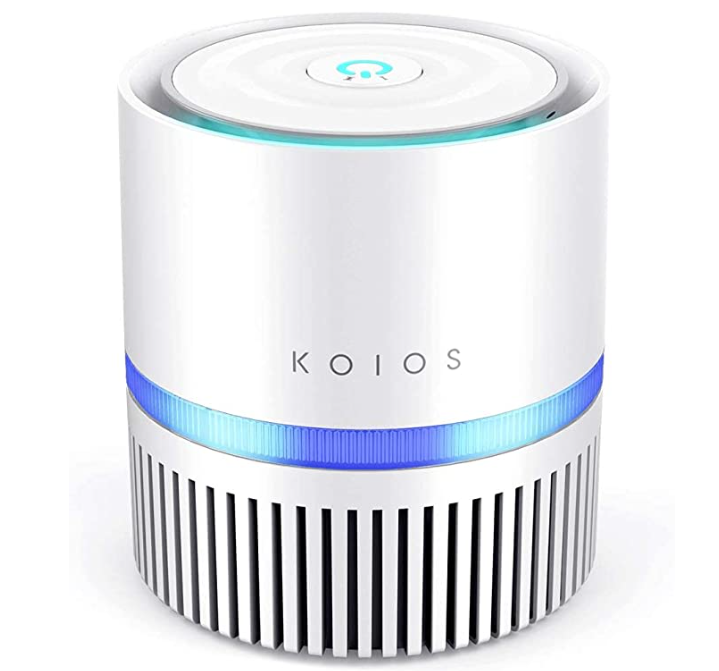 Koios produces unique home appliances, with a particular focus given to air purifiers and humidifiers. Koios Air Purifier is made for small rooms and office desks, with 360 degrees of purification and circulation. The product has a simple design that is easy to operate and makes no sound whatsoever.
Key features
Environmentally friendly 3-stage filtration system
Minimalist and elegant design
Low power consumption
360 degrees intake and discharge
Noise-reducing fan technology
What we like
Good portable design
Reduces respiratory problems
Great for small spaces
Easy to set up and use
Three functional settings
Protection against allergies
What we don't like
The blue light can be too bright.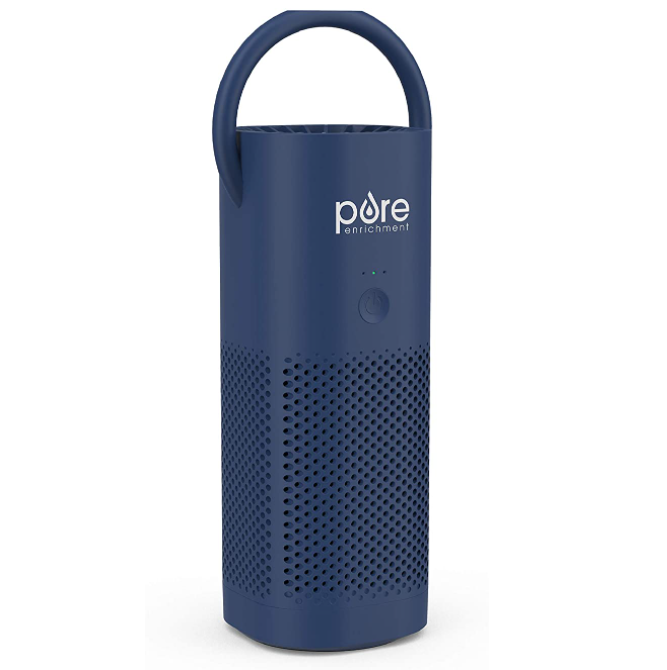 Pure Enrichment is a company dealing in a broad range of home products, such as aroma diffusers, humidifiers, sound machines, personal care products, and many more. The Pure Enrichment PureZone is an on-the-go air purifier that you can take anywhere and keep your personal space clean for around 12 hours. It works in two stages: first, the air goes through the carbon pre-filter and then through the HEPA filter.
Key features
Effective 2-layer filtration process
Designed to be placed vertically or horizontally
Portable and long-lasting; great for traveling
Five distinct fan settings
What we like
Nice design
Battery-powered
Very small and portable
Effective even in cars
What we don't like
It doesn't suck enough bad air in.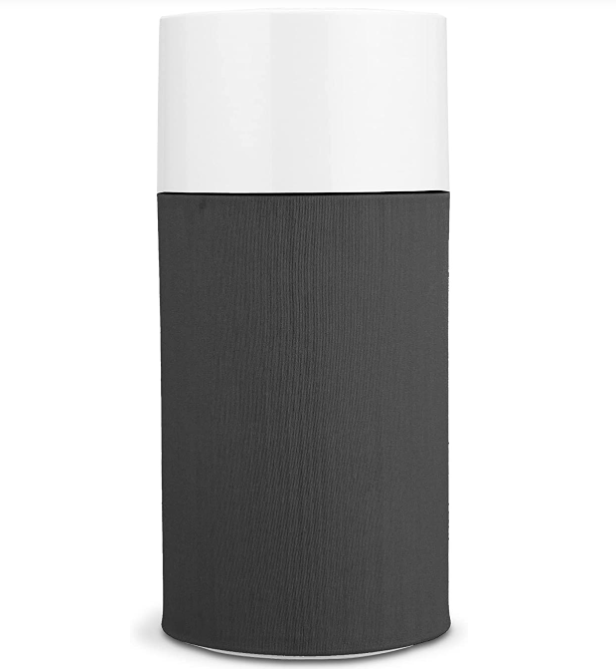 Blueair is an innovative and stylish air purifier company focusing on making products that don't stand out from the rest of your furniture. The Blue Pure 411 is a small, portable air purifier working in up to 161 square foot rooms and has a 360-degree air intake. It's very compact and destroys 99% of all air irritants wherever you place it.
Key features
Removes 99% of harmful airborne particles
Filters the air in a 161 sq. ft. room 5 times per hour
360-degree air intake
Energy Star certified
What we like
Very easy to set up
Stunts allergy symptoms
Very light and easy to carry around
Three different practical settings
What we don't like
The sound can get too loud.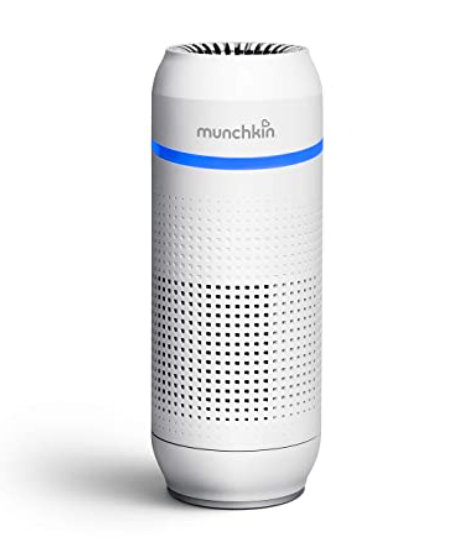 Munchkin makes products for moms and their little children, such as diapers, cups, and utensils. They also made the Munchkin Portable Air Purifier, creating a safe space for babies and parents to breathe. This air purifier has four stages of filtering, and it's so tiny it can fit in a car's cup holder.
Key features
Creates a 7 cubic foot bubble of purified air
Potent 4-stage air filtration system
Automatically adjusted filtration speed
Rechargeable battery that lasts up to 10 hours
Small enough to fit in backpacks
What we like
Removes car odor
Easy to carry around
Easy to operate
Battery-powered
Counters asthma and allergy symptoms
What we don't like
It cannot be used outside as advertised.
Medify MA-25 Air Purifier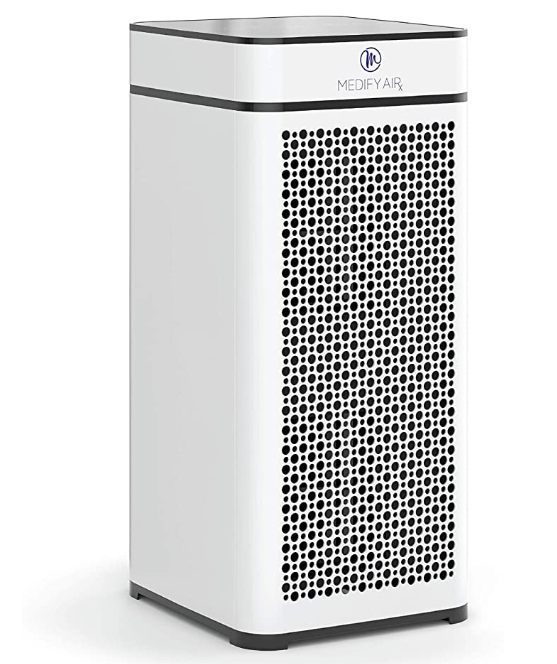 Medify built the MA-25 to be a compact air purifier that feels like it belongs anywhere the users need it, with an exceptional look and convenient control panel. Although small, MA-25 follows the footsteps of some of the most effective air purifiers available, cleaning considerably large rooms using three types of filters and implementing some of the newest technologies. With numerous energy and environmental certifications, coupled with unique characteristics, the MA-25 is one-of-a-kind when it comes to practical air purifiers. Below we'll be going over some of these characteristics that differentiate MA-25 from the competition.
Key features
Cleans spaces up to 1,000 sq. ft. in about one hour
Three fan speeds, with the lowest one being almost silent
CARB, ETL, and Energy Star certified
Replacement filters last 3-4 months
What we like
Protection against allergies
Extremely easy to set up
Gets rid of dust
Removes smoke smells
Helps with respiratory issues
What we don't like
Issues with loud fan noise
Coway AP-1512HH Mighty Air Purifier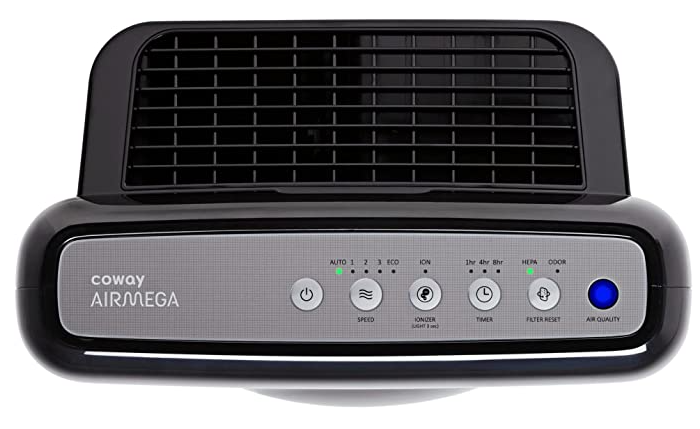 The Coway AP-1512HH Mighty Air Purifier is truly an all-in-one air purifier. This air purifier has a 4 stage filtration system for maximum filtration. It is highly efficient due to the pollution sensor and auto mode, but more importantly, it is energy efficient due to the eco mode. It has a washable pre-filter and operates on as little as 24.4 dB.
Key features
Covers spaces up to 361 ft²
4-Stage Filtration System: Pre-filter, Deodorization filter, True HEPA filter, Vital Ion
Washable, and permanent pre-filter
Pollution sensor
LED display
Features timer, lifetime indicator for filters, 3 fan speeds, auto mode, eco mode
Noise levels range from 24.4 dB to 53.8 dB
What we like
Highly effective sensor
Effective against dust and odors
Energy-efficient
What we don't like
The sensor light is too bright
A bit loud on the highest setting
What to Look For When Buying a Portable Air Purifier
Before going out and buying a portable air purifier, you have to check some specifications, details, and bonus offerings that differentiate the product from the competition.
HEPA Filter
High-Efficiency Particulate Air (HEPA) filters can theoretically destroy 99.9% of all dust, pollen, mold, bacteria, and other airborne particles in our living rooms and closed spaces. Your portable purifier needs to have this sort of filter if you want clean air wherever you take it.
CARB
The California Air Resource Board (CARB) is a certification every in-door and portable air purifier needs to have before being sold to the public. CARB ensures that air purifiers attain and maintain healthy air quality and, more importantly, limit ozone emissions.
Energy Star
The Energy Star is a symbol given by the government that certifies products that save energy and keep your bills low. A portable air purifier will be used quite a lot on your travels, so having one with Energy Star saves you a lot of money.
UV Purifier
UV air purifiers use short wave ultraviolet light to destroy airborne pathogens and irritants such as mold, bacteria, and viruses. UV lights help a lot in reducing indoor pollutants, and with a portable purifier, your hotel rooms are going to stay clean for the whole of your stay.
Size
Depending on how you're going to use it, portable air purifiers come in different sizes and shapes. You can get a small one that can fit in your car's cup holders or a large yet lightweight one to move around different rooms in your house.
Noise Level
Although many people like the white noise air purifiers make, others find it hard to get used to. The noises from the fans and the filters can be very annoying, especially while you're sleeping, so you'll need a purifier that emits as little sound as possible.
Settings
Although smaller in size, portable air purifiers still have plenty of settings and modes to make your life easier. From slow to night modes, you can pick and choose whatever fits your needs and lifestyle, so make sure to make the right decision.
The Final Verdict
The importance of air purifiers is increasing, especially with the high amount of air pollutants being released from daily human activities. Why not have something to counter that and not allow the contaminants to enter your hotel bedroom, car, and home? Each air purifier has a broad range of features and applicable settings to protect your health, so whatever you choose will be a step in the right direction.